Students with a disability
Students with a disability that has no functional impact on the students education are not included in the NCCD.
For example wearing corrective lenses due to mild vision impairment would not warrant a students inclusion in the NCCD.
NCCD
All students with disability who require the provision of adjustment(s) to address the functional impact of the disability under the DDA for 10 weeks or more over a 12 month period. All are included in the NCCD (and only after consultation with student / parent / carer / guardian)
Students receiving adjustments
Students who are receiving educational adjustments made solely for reasons other than disability are not included in the NCCD.
For example adjustments made by schools for student due to frequent absenteeism would not warrant students inclusion in the NCCD.
The NCCD process began in some schools in October 2013 and became the funding model for the non-government education sector for disability loadings for all Diocesan and Congregational schools in 2018. As the approved sector authority, Catholic Schools New South Wales (CSNSW); as part of its quality assurance processes; provides the capacity for schools and dioceses:
In their data reporting, the capacity to verify and confirm with the Commonwealth the eligibility and evidence that the National Guidelines for the NCCD stipulates
In their moderation processes, the capacity to access a credible source of information for resources and training workshops that maximizes consistency in decision making and minimizes risk in non-compliance and/or outliers
Schools utilise the NCCD section within the CSNSW Personalised Planning online tool to enter student NCCD information including the disability category, level of adjustment and confirmation of evidence collection for each student that is eligible to be included in the count. In the lead up to the census in August, CSNSW assists in any necessary moderation of adjustment levels.
Principals must also complete the CSNSW Principal NCCD Confirmation within the CSNSW Personalised Planning online tool at the end of the moderation period to verify their school data in preparation for submitting. CSNSW then submits the data drawn from NCCD section within the Personalised Planning online tool on the first Friday in August each year to the Australian Government Department of Education (AGDET) in Canberra, on behalf of Diocesan and Congregational schools in NSW.
The primary source of information regarding the NCCD can be found at the website nccd.edu.au.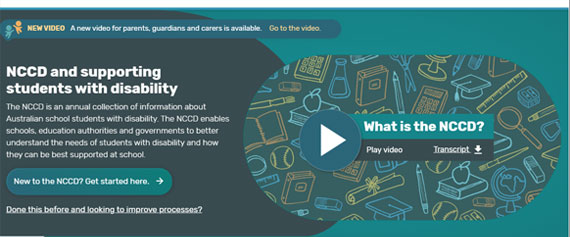 This portal was launched by Educational Services Australia (ESA) – a branch of AGDET – in February 2019 and has been established as a 'one-stop' resource for all information about the data collection. This new portal also now houses the Disability Standards for Education eLearning Course – refer to this section within the Catholic Schools New South Wales website for more information.
DIOCESAN SCHOOLS:
For further information on the NCCD, Diocesan schools should firstly direct all queries to their Educational Officers in their Diocesan Office for all NCCD matters.
CONGREGATIONAL SCHOOLS:
For further information, contact Kerryn Barnett [email protected] 
Senior Manager, Diverse Learning | Education Policy